Once an auction closes, StorageTreasures will automatically charge fees to the winning Buyer's credit card on file. We collect a Buyer Premium and may collect a Purchase Deposit, depending on the storage facility.
Buyer Premium
The Buyer Premium is a fee StorageTreasures charges your credit card on file when you win an auction, for using our services. If you are a Basic member, the Buyer Premium is 15% of the sales price. If you are a Pro Member, the Buyer Premium is 10% of the sales price.
Purchase Deposit
The Purchase Deposit is a prepayment that we collect from you for the storage facility/seller,and is deducted from the amount you pay to the storage facility/seller. This is NOT an additional fee. Depending upon the storage facility, the purchase deposit can be from 0% up to 10% of the sales price.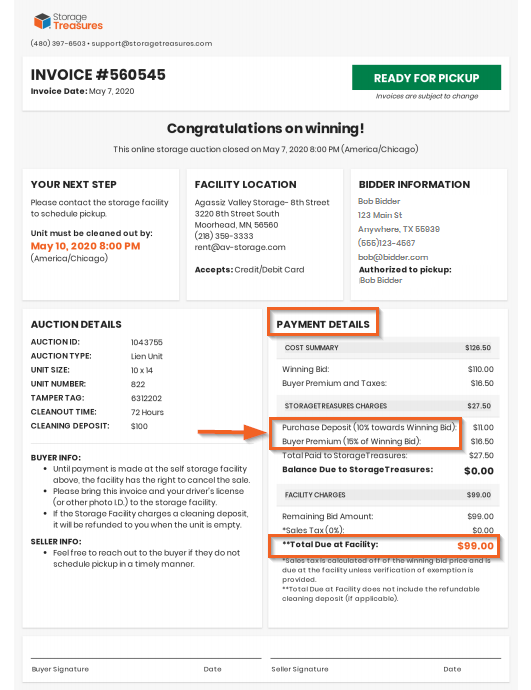 Example:
| | |
| --- | --- |
| Auction Sales Price | $100 |
| Less: Purchase Deposit (10%) | -$10 (collected by ST and subtracted from sales price) |
| *Total Due at Facility | $90 |
| Buyer Premium (15%) | $15 (collected by ST) |
*does not include sales tax or cleaning deposit
In the above example, the total charged to the credit card by StorageTreasures would be $25, for the Buyer Premium and Purchase Deposit. Remember, the Purchase Deposit is deducted from the Sales Price, so the total fee we would collect from the Buyer is only $15.
Note: Bidders are liable for their winning bids and associated premiums, taxes and fees regardless of whether they claim the contents of the auction unit.