How to Sign Up as a Buyer
If you are a first-time user, you will need to:
Create a New Account
Click "Sign Up" at the top of the webpage
Click the "Sign Up as a Buyer" button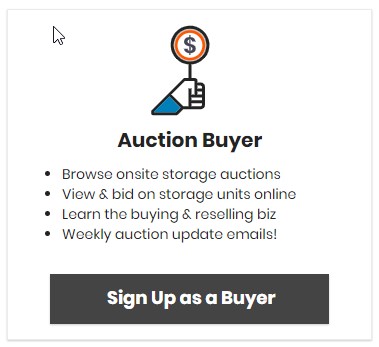 4. Enter Your Contact Information
5. Enter "Authorized for Pickup" person (optional)
Note: An authorized person is someone that you trust to pay and pick up auction units in your absence. When you contact the storage facility after an auction ends, before sending an authorized person to pick up units, please confirm that they are okay with selling the unit to another individual.
Enter Account Password and answer security questions.
Select how you heard about StorageTreasures.com.
Review and check the three boxes under User Agreement & Privacy Policy.
Activate Your Account
Go to your email account and open the email message from StorageTreasures with the subject: "Welcome to StorageTreasures".
Click "Log in to Your Account".
Note: In order to bid on StorageTreasures auctions, you MUST add a credit card on file. See How to Add or Update a Credit Card.