As a Buyer, when you are browsing the website and want to keep track of a facility, you can! Or, if you have purchased auctions from a facility and enjoy doing business with them, bookmark them, so you can check back to see when they have active auctions.
Bookmarking a facility can be done in a couple of easy steps.
Log into your account
Click on any auction you are interested in
Click on the facility name
Above the map, click Bookmark

Done!

To access your bookmarked facilities, follow these steps.
Go to My Account (top right of your browser)
Click Go To Bookmarks on your Dashboard or,
Click Auction Tools in your sub-navigation bar (dark gray), then select Bookmarked Facilities
From here, you can view a list, remove bookmarks, and see if they have any active auctions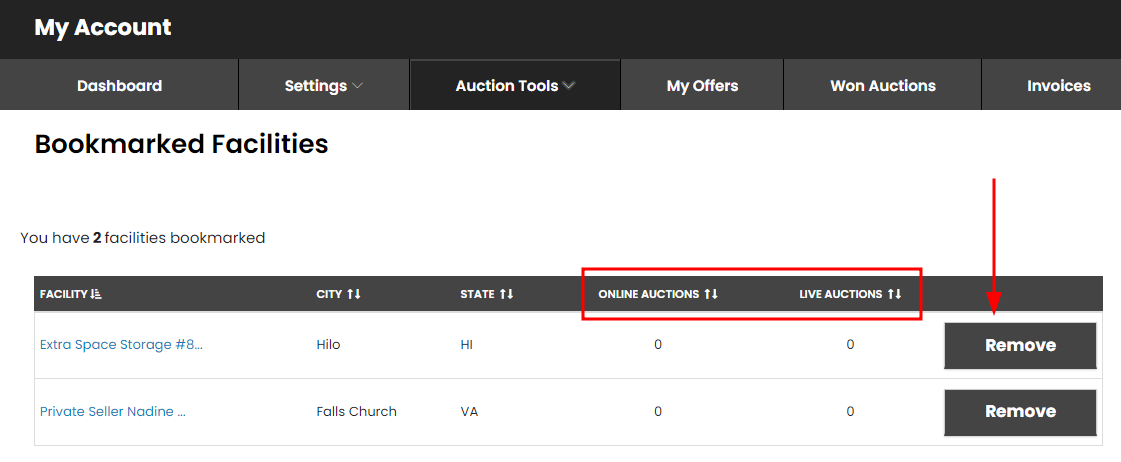 PLEASE NOTE:
You can only bookmark a facility when they have an active auction or are in your Won Auctions list. Since facilities post auctions at different times, you should always bookmark facilities while browsing.