If you need to cancel a Private Seller auction, select the 'Online Auctions' drop-down in the main menu, then select "Active Auctions."
Find the unit you need to cancel, click the "Actions" drop-down, and select "Cancel."


CANCELLATION REASON
When cancelling an auction, you will need to choose a cancellation reason.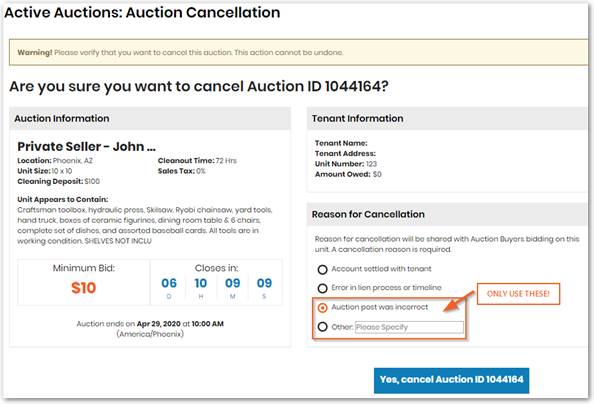 Note: All bidders that placed bids on the auction will receive an email with the cancellation reason. Choose the reason carefully, especially if you will be reposting the unit at a later date.
Select one
Auction Post Incorrect
Other: Type a reason for the cancellation
Examples: Missing or wrong photos, reposting at later date, etc.

Do NOT choose one of these reasons
Account Settled with Tenant
Error in Lien Process or Timeline
We do not recommend stating the reason was due to low bid amounts. When you repost the auction, the bidders will remember the auction and why it was previously cancelled. They may not want to bid again for fear it may be cancelled again for the same reason.
Note: StorageTreasures charges a $20 cancellation fee to your credit card on file. There is no fee if the auction is cancelled before or on the same day the auction starts.
CANCEL AFTER SOLD
Private Seller auctions MUST be cancelled BEFORE the auction ends, while it is Active. We do NOT allow auctions to be cancelled after sold. If we see that you are cancelling auctions after they have sold, your account will be automatically flagged for review.