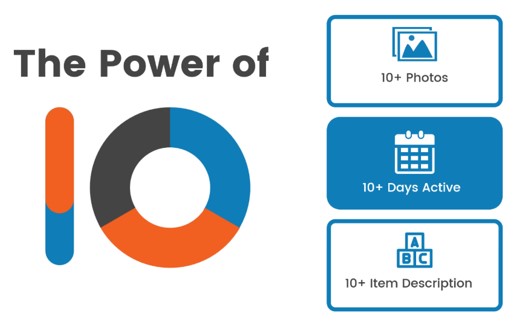 The Power of 10 Best Practices are a simple, easy-to-remember method to boost your auctions and maximize results. By following these three best practices in every lien auction you post, you should see an increase in sales prices, lien recovery and a reduction in unsold units.
PHOTOS (10+ photos)
Photos are a critical element of online auctions. The more photos you post to your auctions, the greater chance the units will sell for higher prices. Your photos should provide a visual of the number of items and size of the unit.
We recommend following these best practices:
Use a digital camera or smart phone.
Camera Flash should be set to 'On', especially for the back of units.
Camera resolution should be set to 1600px x 1200px or higher.
Stand outside of the unit. It is recommended that you do not enter the unit, move or remove items.
Take photos in landscape mode.
Avoid sun glare by taking photos when the sun is not behind you.
Take at least 10 clear, quality photos as follows:

Photograph the entire unit without the unit number showing.
Photograph each quadrant (top left, top right, bottom left, bottom right).
Zoom in and photograph any notable or marketable items.
Take photos from different angles.
Before you close the unit, review the photos and retake any blurry or dark photos.
Note: You will want to take a photo of the unit with unit number for your records only. It is not recommended to post the photo showing the unit number or tamper tag to your auction. These could provide the location of the unit to individuals on the property and could entice break-ins.

AUCTION DURATION (10+ Days Active)
Start Date and Time – Input the date the auction will start and be open for bidding. The Start Date should be at least 10 days before the Auction End Date. This provides the bidders with time to view and research your auctions, and time for our marketing team to advertise your auctions. You can set the auction to Start on a future date, however, the auction will not be open for bidding until the Start Date and time have been met.

Note: If using StorageTreasures for your legal ad, you will need to follow the lien statute for days active.

End Date and Time – The End (or auction) Date is extremely important. Input the date and time auction will close. This date must match what is stated on the lien notice. The auction cannot end before the date on the lien notice.
UNIT DESCRIPTION (10+ Item Description)
Description of the unit contents should support what is visible in the photos. We recommend listing at least 10 items for the best results.
List items in lowercase separated by commas. Do not list items in all caps.
Describe items that are visible in the unit.
List the most marketable or high value items first, to grab the bidder's attention.
Do not make assumptions of what you think may be in the unit. Example, do not assume a TV box has a TV inside. People often store boxes for returns.
Be as detailed as possible. Stating 'household goods' or 'misc' are too broad and not recommended. Example of a good description: couch, sofa, lamps, dishes, glassware, microwave, linens, holiday decorations, yard tools, boxes and more!
Bidders search by keywords. The more items that are described, the better chances that your unit will be found in their search.
List brands and model numbers, if known, especially for high-ticket items
Avoid stating quantities of items unless you are confident you can see everything in the unit.
Excluded items must be clearly stated in description, in caps. Example: VEHICLE IS NOT INCLUDED IN THE SALE.
If selling a vehicle or boat, include the year, make, model and VIN/HIN number, if known, so bidders can research price. For lien sales, we recommend to include a statement that a title search was performed and the winning buyer will be provided DMV documentation so they can obtain title.
If boxes, totes or bins are visible in the unit, include these in the description to gain bidder interest. These should be the last items in your description.