Auction Review Service Introduction
Several years ago when storage auctions were still conducted in-person, auctioneers started a service where they would review the auction file to help reduce the storage operator's liability. The main purpose of this service was to provide a "second set of eyes" to help eliminate any errors in the lien enforcement process.
Examples of things we are looking for are:
Signatures on leases
Names misspelled
Addresses spelled correctly, missing apartment numbers, missing zip codes
Information being used was the same information the tenant provided in writing in the rental application
Appropriate time frames observed between letters being sent and advertisements being run
Accuracy of information provided in the advertisement
Accuracy of seal tag number listed
Benefits of This Service
Reduce liability for self-storage operators.
Have a professional trained in lien enforcement review your foreclosure steps.
The service can be performed as a "stand-in" for your team supervisors. We can help take some work off the plate of your Area Managers and District Managers by eliminating this step in their day-to-day activities by performing the review of auction files for them.
Lien law consultation for tricky or sticky issues, such as active military tenants or tenants in bankruptcy.
Ancillary lien enforcement services such as VIN searches for vehicle sales, active military searches to confirm a tenant's military status, and PACER searches to confirm a tenant's bankruptcy status.
We can provide your team training on lien enforcement.
Questions to Ask Yourself
What is your goal for using our Auction Review Service or why do you want to use our Auction Review Service?

Decrease liability?
Free up team member's time?
Provide training and guidance for your team?

Are you comfortable with our team members pointing out potential issues? Sometimes people feel like we are accusing them of doing something wrong.
Do you or your team members have time to consult with our team members on potential issues and possible solutions?
Do you have common struggles with the lien enforcement process you are looking to alleviate? For example, vehicle sales, etc…
Takeaways
We know this is an area of great liability in your business and we take our involvement very seriously. Our team members involved in this process are constantly undergoing training and education on lien enforcement procedures.
We have team members staying up to date on legislative changes and will be communicating those changes to our ARS clients.
Our number one goal is to protect our clients.
We want to make your lives easier.
How It Works
In order to activate the service a contract must be signed.
Immediately after signing the contract you will be contacted by the ARS team to set up training for your team.
Once you are opted into ARS, you will see an option to upload a file on the same page they upload pictures. On the new site this option will be on the next page after the photo uploads.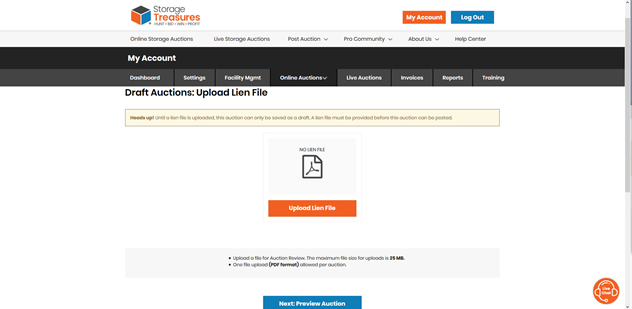 The website will not let you post a unit without a file uploaded.
The unit must be published live to the website before it can be reviewed.
IF a unit is denied, the facility will receive an email letting them know. The ARS team will follow up momentarily with the reason for the rejection.
If a unit is approved no action will be taken and the unit will close normally.