How To Use AuctionWatch
This feature helps to keep track of storage auction units that you are interested in, without having to place a bid. The AuctionWatch list is visible on your Dashboard.
How To Add An Auction To AuctionWatch
Log in to the account
Click "My Account" at the top of the webpage
Enter the desired Zip Code in the search bar
Change the radius search by clicking on the down arrow
Click on an auction you wish to watch
The Storage Auction Details page will appear
Click on +AuctionWatch
A pop-up will notify you that the auction has been added to your AuctionWatch list:
"This Auction is now added to your watchlist. It will stay there until the auction has ended, has been canceled, or you remove it."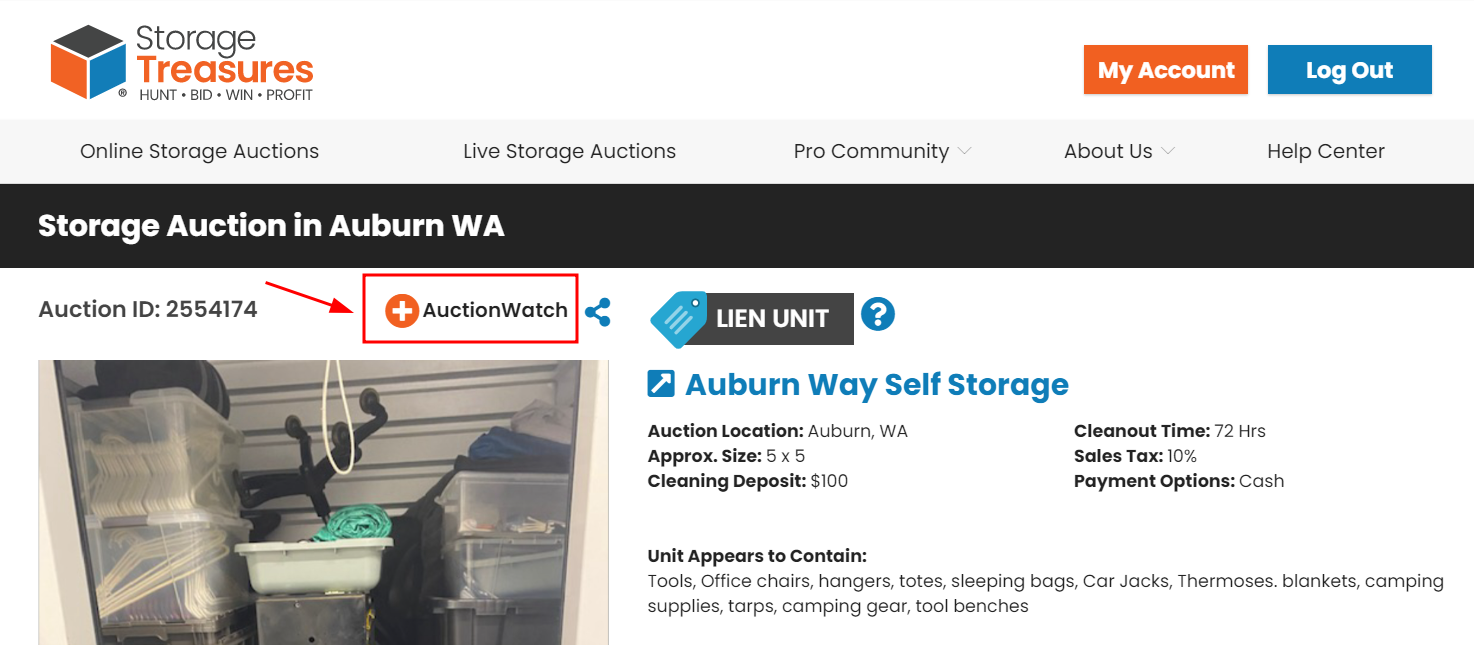 How To Navigate AuctionWatch
Click on the "Auction Tools" tab
Click on the down arrow and Select "AuctionWatch"
View the number of auctions you are currently watching.
Clicking on an auction will take you directly to the Storage Auction Details page.
How To Remove An Auction From Auction Watch
To remove an auction from your AuctionWatch list, click the "Remove" button. The auction will no longer be visible on the Dashboard.
How To Sort Your AuctionWatch List
You can sort your AuctionWatch list, to narrow the auction search results.
1. To sort your list, click on the arrows to the right of the sort type.
2. Choose one sort type to organize your list. The chosen sort type will have a symbol next to the arrow, so you can quickly see which sort type you have chose
a. High Bid – Sort Bids by Highest to Lowest or Lowest to Highest
b. Expires – Sort by Auctions expiring Soonest to Oldest or Oldest to Soonest
c. Facility – Sort by Facility alphabetically, ascending (A to Z) or descending (Z to A)
d. Total Bids – Sort Auctions by Total Bids with Highest to Lowest Bids or Lowest to Highest
e. Unit Size – Sort by Unit Size from Small to Large or Large to Small